History of the International Brotherhood of Teamsters

Origins of the International Brotherhood of Teamsters
"Teamsters" earned their name from the occupation they held as drivers of horse-drawn wagons. Although they were essential to the economy with the delivery of goods, they lived in poverty. The typical Teamster labored 12 to 18 hours a day, seven days a week, for an average wage of $2.00 per day while assuming the liability for bad accounts and lost or damaged merchandise.
In response to these appalling conditions, groups of teamsters began forming in the late 19th Century. This activity caught the interest of American Federation of Labor leader Samuel Gompers, who called on the locals to create a national teamsters union under the umbrella of the AFL. The locals agreed and in 1899, the Team Drivers International Union was formed with 1700 members.
A rival group split from the Team Drivers International Union and formed the Teamsters National Union in 1902, however, they were able to reconcile some of their differences and on September 3, 1903 the International Brotherhood of Teamsters was formed with Cornelius P. Shea as the first President.
The International Brotherhood of Teamsters today has 1,400,000 members.
For additional information on the history of the Teamsters, click on this link: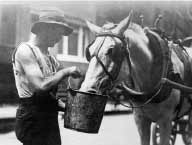 1939 Letter to the Membership
---
The following is a letter writen almost 90 years ago by the Principal Officer of Teamsters Local Union No. 231 as he was moving to a different position in the Teamsters. Even though it was written in 1939 the words and sentiment that Mr. Mohn expresses are still relevant today.
Today, with the freedom of working people being attacked, it is important to remember these are the same fights our grandparents and great grandparents fought. Just like they did, we will pass on to the next generations a better world to live in- where they have respect, dignity and have a voice in the work place.
---
Download:

Einer Mohn letter.pdf
Page Last Updated: Jul 10, 2018 (11:34:00)